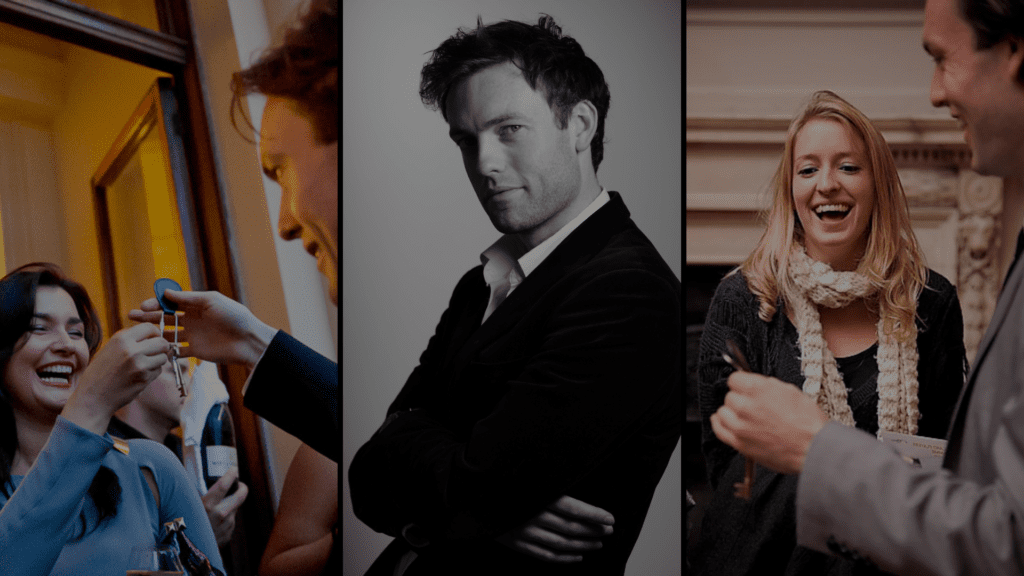 Planning a friend's surprise birthday party is stressful. You're in a tizz, brainstorming ideas when you notice a "Magicians for Hire" sign.
There you have it: the key to an entertaining and unique party.

You can hire a band or DJ but a magician will engage your guests and guarantee a thrilling night. But where do you start?
Benefits of Hiring a Magician
If you're still on the fence about hiring a party magician, consider these benefits:
A magician can cover for any delays (e.g., whilst grabbing a spare chair for a guest)
They're able to work regardless of England's unpredictable weather
Magicians can tailor their tricks to each group
A magician brings people together
Many people haven't been up-close and personal with a magician, so it gives them the perfect opportunity to get involved. Also, good magicians are conversationalists so they can work the group's dynamic and give your guests a night to remember.
Things to Consider On Your Magician Search
A magician can make or break your party so decide which magic tricks will have the most impact on your guests. You should also:
Decide What Magic Works Best for Your Venue
Which sounds better: a mystery guest performing tricks during cocktail hour or a performance on stage? Your venue will impact the magician you'll need so if there's a grand stage, use it to your full advantage.
If you're planning a holiday party, close-up strolling magic is a great way to keep guests entertained whilst they wait to be served. When one table is served, then the magician can work another waiting table. It's also a great way to break the ice.

Or if you're hiring a magician for a conference, they can fill the interlude between speakers to bring some energy into the room.
Have a Chat on the Phone and Consider their Testimonials
Online profiles are a great way to check out the magician's experience but a phone call shows you what their energy is like.

Are they confident and personable? Your conversation should determine how they will interact with guests at your event. They shouldn't only be positive and professional but should strive to make your event successful.

You should ask questions like:
What is your professional experience?
What kind of magic do you perform?
What options do you recommend to keep my guests entertained?
Do you have testimonials you could share?
The last question is important. Magicians should be transparent and share their customer reviews with you. But if you want to double-check, go to their profile to see what customers rated them and their feedback. Reviews also tell you whether they're capable of doing events like yours. If so, that's a good sign.
Watch Them Perform
The best way to get a taste of a magician's skill is by watching them in real life. Many magicians have public events or hold residencies at a local bar. When you're in the audience, watch how they interact with you and others, so you can decide whether they're the right fit.

Or look out for a promotional video. Don't look for flashy magic tricks done for the camera but the magic performed at an event and the audience's reactions.
The Cost
Costs will vary depending on how much experience the magician has and what you want for the event. A famous magician doing a full stage show will cost thousands compared to a hobbyist magician who may charge £100.

A general cost would be from £300 to £1,000 for a night of entertainment. The magician may suggest a package that could include mingling with your guests to an hour-long performance.
What to Expect from a Magician Working a…
A good magician should always be developing new tricks to fit every occasion. Make sure they are well-rounded and have extensive experience in multiple settings, such as:
Wedding
A magician will imbue even more fun to the evening reception. Their magic tricks will guarantee talking points throughout the day, unforgettable reactions and a party-like atmosphere.

For weddings, magicians do 'mix and mingle' magic with tricks like theatrical pick-pocketing, mind reading, and card manipulation. Consider the magician's approach as some will be funny and chatty whereas others are mysterious, so decide which persona will best suit your audience.
Corporate Event
Got a company anniversary coming up? Gala dinner? Then hire a magician to dazzle existing and new clients with skilful card magic or sleight of hand. Ask a magician to create a routine including your boss so they look like a "good sport" whilst reinforcing their power and position. Or incorporate the company's brand or logo into a magic trick.
Now When You See a "Magicians For Hire" Sign, What Will You Do?
Magicians are a safe bet for entertainment. You don't want to hire a band where the singer screams down the mic in case it's not to everyone's taste. Magicians, on the other hand, are timeless and are a great way to break the ice and bring people together.

Before Googling "Magicians For Hire", decide what type of magician you're after and the venue. After sitting down and seeing the tricks the magician does, then you'll be able to see if they're the perfect fit for you. Happy hunting!
Are you looking for a magician to jazz up your next corporate event? I'd love to help. Contact me here with any inquiries and I'll get back to you shortly.